Ransomware op Synology NASsen
Sinds afgelopen zondag zijn een aantal Synology gebruikers slachtoffer geworden van "Synolocker". De gebruiker krijgt i.p.v. het vertrouwde DSM scherm opeens onderstaande te zien: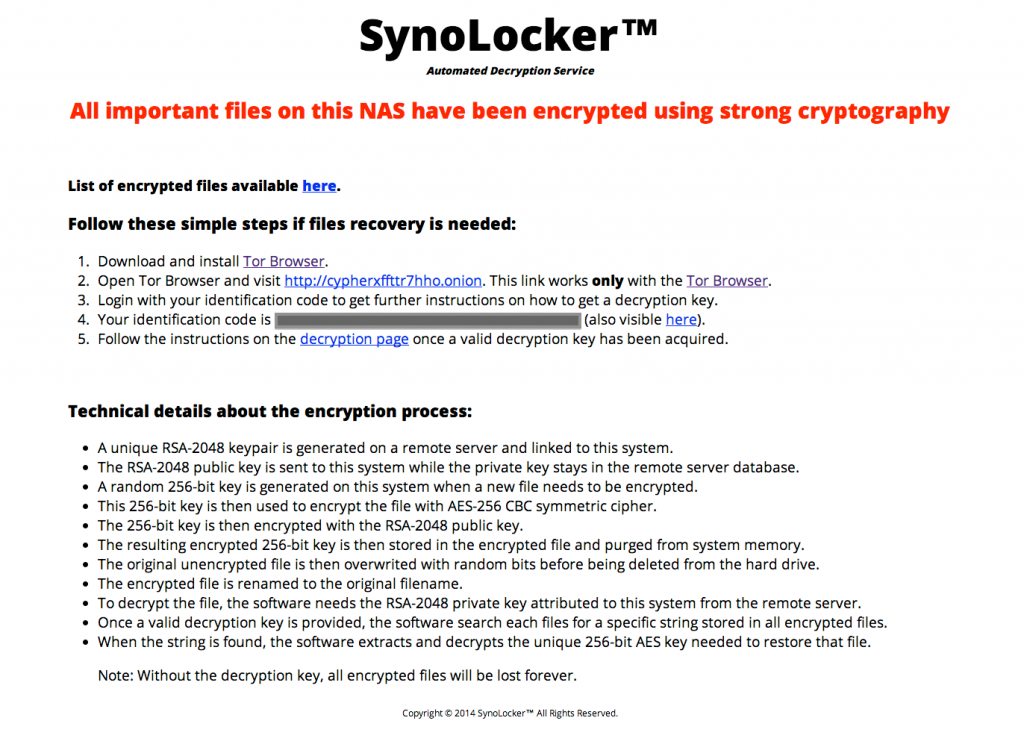 Hierin wordt beschreven dat de data op de nas versleuteld is en dat deze versleuteling alleen ongedaan gemaakt kan worden door 0.6 Bitcoin (~350 euro) te betalen aan de maker(s). Of het betalen van het losgeld ook daadwerkelijk helpt is uiteraard de vraag.
Hoe deze ransomware op de bewuste Synology's is terechtgekomen is nog niet bekend, en Synology heeft ook nog geen oplossing.
Wat moet u doen?
NAS is nog niet geïnfecteerd:
Omdat nu nog niet bekend is hoe de ransomware op de NAS terechtkomt raden wij aan om te zorgen dat de NAS op geen enkele manier via internet bereikt kan worden. Dit kunt u doen door bestaande portforwards te verwijderen, of door de NAS uit te zetten etc.
Wacht vervolgens op nieuws vanuit Synology over te verder te volgen stappen indien van toepassing.
NAS is geïnfecteerd:
Zet de NAS direct uit. Het versleutelen van de bestanden wordt dan onderbroken zodat misschien nog een deel van de data onversleuteld blijft.
Maak melding via de support site van Synology en wacht op verdere instructies.
Tijdens het wachten kunt u eventueel dit topic op synology-forum.nl of de facebook pagina van Synology in de gaten houden.